Security in a Mobile World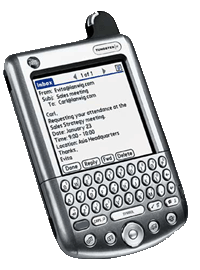 To approach a suspect safely, you need information – fast, reliable information. Voyager Query™ by Voyager Systems delivers. Extremely light it fits in the palm of your hand. And it quickly delivers the hard facts you need, whether you are in a patrol car, on a motorcycle, on foot, or on the ninth floor of a building. Voyager Systems new Voyager Suite of Products gives you easy access to important information fast . . . Just about anywhere!



Lets You Keep a Low Profile

And its small size lets you keep a low profile, if necessary. Best of all, all of this information is delivered to you via the hot new Palm i705™. In fact, Voyager Query runs on virtually any hand-held computer available on the market today.


Queries in the Palm of Your Hand

Officers can run in state or out of state plates, check vehicle identification numbers, drivers licenses and get alerts within seconds, as well as other pertinent registration information. You can check a subject's name and/or date of birth – finding out just whom you're dealing with. With Voyager Query you'll have a better idea of what you're getting into before stepping out of the car.

Investigators can run firearm serial numbers through state and federal databases and quickly receive data on make and model, plus any important alerts. You can also perform property look-ups with one easy command. 

Voyager Query was designed with convenience in mind. You can access information on stolen property any time – without calling into the station.


Secure Information at Your Fingertips

In law enforcement, secure data is a daily concern. With Voyager Query, you'll know your information is secure. The application is protected by individual device security that is controlled by the host server. For added protection, your software is also password-protected by a required user login.

When it comes to public safety, you need information. Voyager Query puts it in the palm of your hand.

For more details, please call 858.550.1100 and speak to one of our sales representatives.