New Wireless Business Solution Offers Specialized Service through Nextel Nationwide Packet Data Network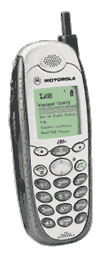 RESTON, Va. – November 13, 2002 – Nextel Communications, Inc. (NASDAQ: NXTL) and Voyager Systems, Inc., today introduced Voyager Query™, Voyager Contact™ and Voyager ChoicePoint™, a robust suite of secure wireless data applications that enable law enforcement officers and other authorized personnel to search federal, state and local criminal justice and public records databases, as well as collect and report field contact information directly from Java™ technology-enabled Nextel handsets, personal digital assistants or laptop computers. The Voyager applications are the newest wireless business solutions offered to Nextel's enterprise law enforcement customers to increase productivity and streamline operations through the faster exchange of information.
"These applications allow users to conduct industry-standard record checks without calling a dispatch center, provide discreet handheld access to criminal justice and public record information and eliminate the duplicate work effort and increased risk of error in transcribing written reports," says Ernie Cormier, Nextel's vice president, Enterprise Solutions. "The Voyager technology is a good example of how Nextel's wireless business solutions assist the law enforcement community in their day-to-day tasks and can enable them to access information from any location on Nextel's national network."
"It is imperative today for law enforcement agencies to equip themselves with tools that help make their jobs more effective and efficient," said John Lines, Voyager Systems' Chief Business Development Officer. "Combining Voyager's technology with Nextel Communications' powerful nationwide wireless data communications network offers the public safety market industry-leading solutions that are both effective and affordable."
Targeted to licensed law enforcement professionals, Voyager's service has three components:
1. Voyager Query™ — A hosted wireless application that allows law enforcement officers to conduct record checks through federal and state criminal justice databases and to access local and proprietary databases.
2. Voyager Contact™ — A powerful data collection and query tool that streamlines the process of collecting field interview data and provides back-end analysis and alerting functions to assist in surveillance activities. Voyager Contact includes fields for standard contact information as well as for data entries relating to the cause of the contact, including the alleged infraction, an individual's identifying characteristics, issuance of a warning or citation, and similar details necessary for contact demographics analysis and reporting.
3. Voyager/ChoicePoint™ — Supports field law enforcement efforts to verify, identify, locate subjects and witnesses, identify property owners and understand potential threats at given addresses.
Now available, Voyager Query™, Voyager Contact™ and Voyager ChoicePoint™ all run on Java™ technology- enabled Nextel handsets or personal digital assistants using a Nextel iM1100 wireless modem and may be purchased directly from Nextel. Each service carries a one-time $50 activation and installation fee per device. Subscription rates start at $55.99 per Nextel handset.
Nextel leads the industry in providing business customers with wireless data solutions that increase the productivity of the mobile workforce. Last year, Nextel became the first company in North America to offer Java™ technology- enabled Nextel handsets nationally and, since then, the company has sold more than 2.3 million units. In addition, in August 2002, Nextel launched an enterprise distribution solution, Mobile Application Manager (MAM), allowing enterprise customers to distribute custom or packaged applications wirelessly to hundreds of phones in a matter of minutes. Nextel currently has six Java-enabled handsets by Motorola on the market, including the i85s, the i60c, the i30sx, the i90c, the i95cl and the i80s mobile phones.
About Nextel
Nextel Communications, a Fortune 300 company based in Reston, Va., is a leading provider of fully-integrated wireless voice and data communications services including Nextel Direct Connect®–the long-range digital walkie-talkie feature; high quality digital cellular services; Nextel Online® wireless data content and business solutions; and two-way messaging services. Nextel and Nextel Partners, Inc. have built the largest guaranteed all-digital wireless network covering 197 of the top 200 U.S. markets. Nextel's wireless voice and packet data communications services are available today in areas of the U.S. where approximately 240 million people live or work.
About Voyager Systems, Inc.
Privately-held Voyager Systems, Inc. is an enterprise applications software provider specializing in secure data transmission services and wireless applications development. Its customers currently include Federal, state and local law enforcement agencies. Voyager's flagship product, Voyager Query™, provides field operations personnel access to information, quickly and securely, via a high-speed handheld device communicating over any wireless network. Voyager's suite of products facilitates information access and enhances officer safety through its cost-effective, breakthrough technology. Founded in 2001, the company is headquartered in San Diego, California. For more information about Voyager Systems, visit the company's website at http://www.voyagersystemsinc.com.