McDonald's (MCD) second-quarter sales crushed analysts' expectations, and shares rose nearly 2% in early trade and hit all-time highs.
Here are the numbers for McDonald's second quarter, compared to Wall Street estimates compiled by Bloomberg:
Revenue: $5.34 billion vs. $5.33 billion expected
Adj. earnings per share: $2.05 vs. $2.05 expected
Domestic same-store sales: +5.7% vs. +4.4% expected
Global same-store sales: +6.5% vs. +5.3% expected
Same-store sales, a key industry metric, were better-than-expected in both the U.S. and globally. McDonald's posted its best global same-store sales growth since 2012.
"With the strong results we achieved in the second quarter, we have now experienced 16 consecutive quarters of positive global comparable sales," CEO Steve Easterbrook said in a statement. "By engaging our guests on their terms, whether it's through delivery, an enhanced dining experience at one of our Experience of the Future restaurants, or through our evolving digital offerings, we're becoming a better McDonald's. We will continue to focus on our customers with innovative solutions to further elevate the guest experience and drive growth."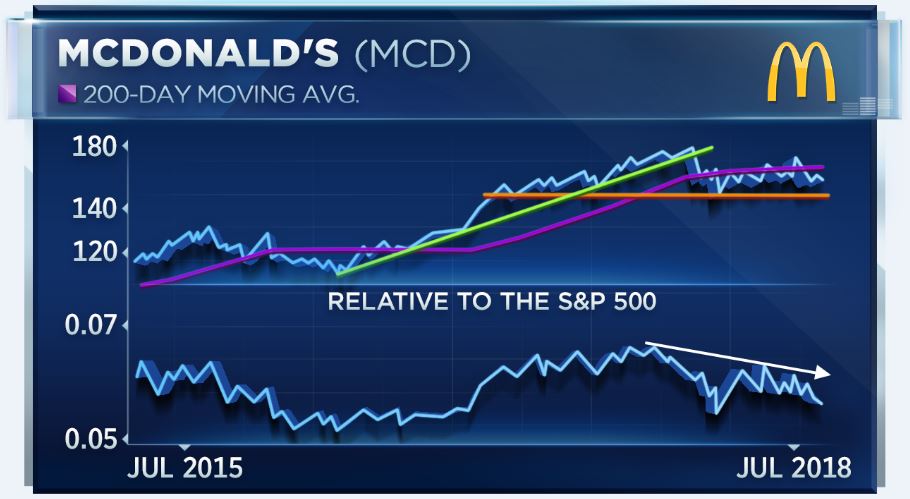 McDonald's has been stepping up its game, as it looks to stay dominant in a highly-competitive restaurant environment. The company has been focusing on several key initiatives such as investments in digital, delivery expansion and menu innovation. Those efforts have proven to be paying off for McDonald's.
Across the restaurant and fast-casual industry, delivery has become an integral part of businesses. Earlier this month, McDonald's announced that it would be partnering with food-delivery company DoorDash, in addition to its partnership with Uber Eats. Uber Eats was McDonald's exclusive delivery partner in the U.S. since 2017, and since then the delivery business at McDonald's has grown to a $3 billion business, according to the company. By creating new delivery partnerships, McDonald's is able to bring down delivery commission fees, and thus boost profitability.
Shares of the fast-food giant have soared 22% this year as of Thursday's closing price.